From Concept to Completion
Achieve seamless production with one integrated solution:
The galvanized Steel Truss Systems provide greater strength non-combustible, termite free roofs, and many savings compared to using wood trusses. Using Light Gauge Steel Trusses can greatly reduce costs associated with materials, labor, shipping and reduce construction time.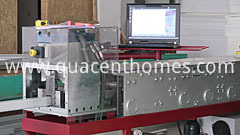 Advantages of Light Gauge Steel Trusses:
Sturdy product withstands far more wind damage than wood trusses.
Lightweight product is 1/3 to 1/2 the weight of wood and can be sent to job site in larger loads, saving precious project time.
Easy and fast to erect. Less dead load for the supporting structure. Require less lifting, handling and bracing than many other truss systems.
Design flexibility. Create nearly any design you can imagine. Up to 80 feet long clear-san capabilities and ceiling and roof profiles without limit.
Pre-engineered and pre-fabricated by truss professionals.
Compatibility tested with nearly all decking and roofing systems.
Time-saving: Lightweight product allows for ground-assembly before raising the pre-built product into final position through use of a crane.
Long-term protection against insects. No chemical treatment necessary for the life of the product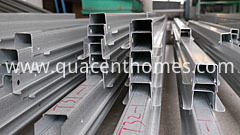 Quacent Truss System FeaturesQuacent Truss System Features
Based on our one of the world best fully automatic cold roll forming machine, we offer
light gauge steel truss for roof and floor with the following characters,
• Fully engineering data
• Virtually unlimited truss design - extremely versatile
• Chord and webs in one plane
• Lightweight and easily handled on-site
• Strong weak axis performance - helps prevent damage in handling, reduces
bracing requirements, and provides solid footing for installers and other trades
• High strength to weight ratios
• Long span capabilities
• Mechanically fastened - no welding
• Layout, design and engineering, and fabrication drawings accomplished with
state-of-the-art software
Material: High tension Galvanized Light Gauge steel, G550
Thickness: 0.55mm/0.75mm/1.0mm,
Specs: Zinc & Aluminum coated with 150g/m2+